E-courses and
One-on-One Workshops
I have found that one creative act will continually feed another. For example, when creating photos or short films, the things I might ordinarily miss become the focus of wonder and perhaps even a written story. Drawing lines and shapes on a page might lead to an unexpected character idea. Yoga and movement open the heart and create conversations. Artistic combinations not only feed the creative process, they serve as a springboard for story telling. That's why I developed packages that invite you to adopt a practice with a blend of creative pursuits that feed one another and fit into your daily life.
---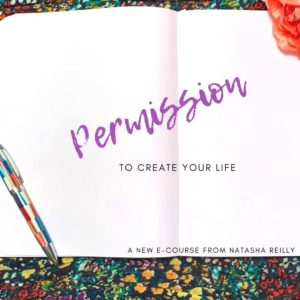 What might it look like if you gave yourself permission to let go and create what you love?
Permission is an invitation to step inside your life and look at the areas where you deny yourself the permission to do, feel and/or experience the things that you truly desire. From enjoying a moment of genuine laughter to exquisite self-care, how do you hold yourself back from taking up space in this world and writing the greatest story with your life?
 
Together, we will look at ways to decrease fear and anxiety, love our bodies, minds and spirits, embrace joy and allow play to be a companion to courage. In this way, we will deepen our love for ourselves and our lives.
During this 3-week mini-course, you will be invited to:
join a live, 1 hour Zoom call on Tuesday evenings at 7pm EST where we will focus on an area of life where we might need some permission (Replays will be available.)
use breath practices to ease anxiety, soothe our nervous system and/or increase focus in our lives so we can use our voices in a powerful way
explore fun, mindful exercises to open our creative heart so we can create our stories (we might even use household materials to create)
use meditation to calm to the mind and body while igniting inspiration within your own imagination
receive a mid-week inspiration email
write stories that honor our desires and call in what's best for us
receive inspiration and feedback from Natasha
share our stories in a private, safe and supportive community – not connected social media, if you choose.
This class is not about publishing – though if you choose to publish pieces after, you are more than welcome to do so. It's about caring deeply for ourselves and the stories we are writing with our lives.
This class is an invitation to come to mediation, mindfulness, writing, creative practices and life with beginner's mind.
It's about conversation, connection, process and discovery. It's about honoring YOU.
The cost of the course is $49 and it begins on April 5th, 2021. Please feel free to sign-up through my Etsy shop, Natasha Reilly Studio or the Paypal link below.

---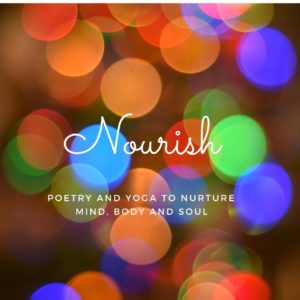 Imagine being wrapped inside your most comfy blanket while sitting under holiday lights, drinking your favorite, yummy drink and having the most incredible conversation with an amazing friend.
How does that make you feel?
Well, that is what this course is going to feel like – in a word,  nourishing.
I've been told by so many people – "I can't write", "I don't have anything to say", "I don't have a creative bone in my body" and "I can't do yoga." I'm here to tell you that none of that is true – I simply don't believe it.
You are a creative soul with a beautiful mind, body and soul.
You can do all of these practices AND they will not only bring you home to your amazing self, they remind you of the beauty of being alive.
As we move through one of the most challenging times in history, it is my belief that loving yourself and taking time to nourish you will not only allow a simple practice to become a habit, it will cause ripples of goodness to light up your life and then spill from you out into the world.
Each week, you will be invited via email to:
bask in poetry meant to delight your imagination
pen your own pieces that celebrate the extraordinary in the ordinary
enjoy stories that will awaken and nurture the child in your heart
explore yoga postures to nurture your body in the morning and inspire your day
marinate in yoga to help you de-stress and ready for a yummy night of sleep
discover breath practices to ease anxiety and calm your nervous system
play with mindful exercises that will tickle your senses
The yoga sets are designed specifically to be accessible for EVERY body. This is not about looking social media perfect in a pose. I don't subscribe to that idea. It's about loving, enjoying, caring for and feeling truly good your unique and beautiful body.
I've created this course to fit into your day. So you will receive the gift of a daily poem, three, gentle invitations a week to pen your own poem and yoga sets 3 x a week to do when it's best for you. The course will run for three weeks from Monday through Friday so you have the weekend to play with anything you received during the week.
Think of it as a little treat, a little something to look forward to and to carry with you all day long.
So what do you say? Grab a blanket and your yummy drink and meet me under the lights?
My wish is for everyone to feel nourished so I am offering this course with a pay what is honest and in alignment for you option.
Soul Space: Awaken the Artistic Soul
This workshop is for the soul who is looking to awaken creativity and deepen in love for life. In this month long workshop, you will use art exercises, meditation and yoga poses to journey inward and explore all the beauty on your inner landscape.
Each week you will receive:
An art exercise to engage your imagination and the world around you, a meditation to enhance your creativity and life, a short, inspirational, mid-week email that focuses on your goals, and honest, constructive feedback – if you like – on all that you create. You are invited to a 30-minute video call mid-month to discuss your progress, as well.
And So It Begins…. Workshop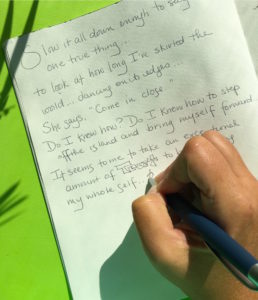 This workshop is for the creative soul who has been looking to write but has either never tried their hand at creative writing or been stuck. The focus is not on publishing but instead sharing your voice and the joy that comes from telling your story as only you can.
Monthly Writing Session includes:
Weekly writing assignment to explore voice and style, a short inspirational email mid-week that focuses on your goals, honest, constructive feedback and encouragement on the writing you submit at the end of the week. You are invited to a 30-minute video call mid-month to discuss your progress.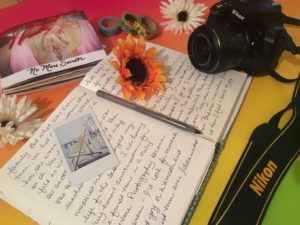 This workshop is for the creator who is looking to create a larger work or body of work. Using writing, photography, video and art-making, we will use various mediums to enhance your creative project in ways you hadn't imagined. This is an all-around creative, art-making fun fest designed to help you take your work to new heights and give your imagination a major joy boost.
Monthly Creative Session Includes:
Weekly art assignment designed to enhance your creative project in some way, tips on how to expand or edit your work, honest, constructive feedback and encouragement as we communicate throughout the week. Video calls and email exchanges are unlimited.
If there is a specific focus you have in mind such as putting together a photography collection, designing a video, creating a product, writing a story, etc. I would be happy to design a workshop that is tailored to suit your needs. There are both one month and multiple month options available.