The very best stories are the ones you have yet to tell!
In I Wonder… we will share music, laughter and our hearts while telling stories and marveling at the crazy wonder of life.
Here's what you'll find as we journey together:
– A song. It may be one you've never heard or one that brings back memories but either way, you will be invited to listen, sing, and dance from the comfort of your home. You will be invited to write about it as well, if it inspires you.
– A weekly theme. We'll start with a word, a silly but wonderful question OR a Creative Photo Prompt which will invite you to capture something joyful. Then, we'll write a short creative piece about it.
– Community Showcase. At the end of each week, you will have an opportunity to share something with everyone in an online showcase created by Natasha. You can choose to share or not – it's 100% optional.
– Interaction. Short playful videos will arrive each week. On Wednesday and Thursday you can expect responses from Natasha on your amazing work.
This course is for you if you'd like to end the year with a little story-telling – fiction and/or non-fiction – a little laughter and a whole mess of fun.
Class begins on December 2nd and ends on December 20th. The cost is $49.00.
It's the holiday season so it's designed to be light on work but heavy on fun!
Want to join me?
I have found that one creative act will continually feed another. For example, when creating photos or short films, the things I might ordinarily miss become the focus of wonder and perhaps even a written story. Drawing lines and shapes on a page might lead to an unexpected character idea. Artistic combinations not only feed the creative process, they serve as a springboard for story telling. That's why I developed packages that invite you to adopt a practice with a blend of creative pursuits that feed one another, fit into your daily life and enhance your living and creating experience.
And So It Begins…. Workshop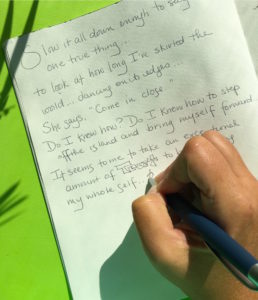 This workshop is for the creative soul who has been looking to write but has either never tried their hand at creative writing or been stuck. The focus is not on publishing but instead sharing your voice and the joy that comes from telling your story as only you can.
Monthly Writing Session includes:
Weekly writing assignment to explore voice and style, a short inspirational email mid-week that focuses on your goals, honest, constructive feedback and encouragement on the writing you submit at the end of the week. You are invited to a 30-minute video call mid-month to discuss your progress.
Investment: $450 USD/month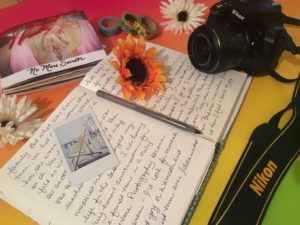 This workshop is for the creator who is looking to create a larger work or body of work. Using writing, photography, video and art-making, we will use various mediums to enhance your creative project in ways you hadn't imagined. This is an all-around creative, art-making fun fest designed to help you take your work to new heights and give your imagination a major joy boost.
Monthly Creative Session Includes:
Weekly art assignment designed to enhance your creative project in some way, tips on how to expand or edit your work, honest, constructive feedback and encouragement as we communicate throughout the week. Video calls and email exchanges are unlimited.
Investment: $595 USD/month (payment plan available)
If there is a specific focus you have in mind such as putting together a photography collection, designing a video, creating a product, writing a story, etc. I would be happy to design a workshop that is tailored to suit your needs. There are both one month and multiple month options available.